Issues in Manufactured Housing
According to the 2005 American Housing Survey, approximately 48 percent of manufactured homes that were occupied as a primary residence were owned or rented by a person age 50 or older in 2005. However, from 1999 to 2006, there has been a decline in the production of new manufactured homes coupled with less vigorous enforcement of federal safety and construction standards.
Introduction
Manufactured homes (commonly called, "mobile homes" or "HUD-code" homes) are a major source of affordable housing for low- and moderate-income families. In 2005, 6.4 percent of the nation's 109 million occupied housing units (about 6.9 million manufactured homes) were occupied as a primary residence. Approximately 3.3 million (48 percent) of manufactured homes occupied as a primary residence were owned or rented by a person age 50 or older.1 Around 44 percent of manufactured homeowners age 50 and older reside in a manufactured home park.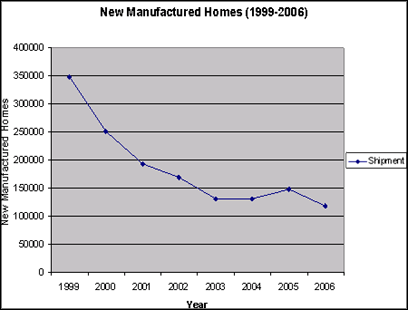 Source: Census Bureau's Construction Division. PPI Analysis
Though still a large part of the nation's housing stock, production of manufactured homes has declined by two-thirds in the last seven years. In 1999, 348,000 manufactured homes were shipped from plants, compared to only 117,000 in 2006.2 The decline may be traced to a number of factors: a shakeout among lenders in the industry; new and innovative mortgage products for traditional site built homes; a decline in the number of land-lease communities where many manufactured homes have traditionally been placed; concerns about quality and changing tastes among consumers.
Manufactured Homes and Their Older Residents
Many Older, Single Residents
Of the 3.3 million 50-plus households living in a manufactured home in 2005, nearly 765,000 had a household head between 65 and 74 years of age, and around 695,000 were headed by a person age 75 or older.
About 45 percent of 50-plus households living in manufactured homes were married couple households, and 39 percent were single person households.
High Proportion Have Low-Income
The median income for 50-plus households in manufactured housing was around $22,000 in 2005 compared to around $44,000 for 50-plus residents of conventional single-family housing.
Limited financial resources make residents of manufactured housing particularly vulnerable to increases in park rents and unexpected home repair cost.
Manufactured Homes Typically Smaller and Less Expensive
Manufactured homes are less expensive than conventional single-family homes. The median sales price for a new manufactured home in 2005 was $62,600, compared to $297,000 for a single family detached home.
The median size of new manufactured homes in 2005 was 1,595 square feet relative to 2,414 square feet for new single family homes.
Quality and Safety Standards
Manufactured homes are built in accordance with federal construction and safety standards that preempt local building codes. Thirty-eight states have state administrative agencies that enforce the federal standards and handle consumer complaints. The Department of Housing and Urban Development (HUD) has responsibilities in the remaining twelve states3. But despite the standards and regulatory structure, consumers have continued to experience a number of problems with the construction and installation of their homes.
Inspection and enforcement of federal construction and safety standards vary among the states and the rate of inspections conducted by HUD has declined in recent years because of lack of funding This situation is currently critical, because the HUD funding for this program is based on a "label fee" for each manufactured home section produced. The federal government currently charges $39 for each transportable section of a home produced. As this label fee has not been increased in several years, and production has dramatically declined, HUD has relatively little money to spend on inspection and oversight.
In addition, HUD's program responsibilities have expanded as a result of the 2000 Manufactured Housing Improvement Act. This created a 21-member consensus committee to recommend revisions to the manufactured housing standards. The Act also charged the committee to develop minimum national standards for the installation of manufactured homes. In addition, a dispute resolution system was established among manufacturers, retailers, and installers regarding the responsibility for the repair of defects reported by consumers within one year of installation. If a state does not adopt its own dispute resolution system, HUD administers its own system. The manufactured home dispute resolution program goes into effect February 8, 2008.
Practices in Manufactured Home Parks
Manufactured homes are commonly referred to as mobile homes. However, the term 'mobile home' is misleading; most manufactured homes are not moved again once they leave the dealer's lot. Manufactured homes are expensive to move and may suffer significant damage if moved. Further, it is often difficult for residents of manufactured home parks to find alternative rental space. For these reasons, manufactured homeowners who rent their lots in manufactured home parks find it very difficult to move when a landlord engages in unfair practices. Unfair landlord practices may include frequent and excessive rent increases, inadequate park maintenance, and the retaliation for consumer complaints. In addition, rising land values have led many landlords to convert their property to a more profitable use.
Many states have legal protections for residents of manufactured home parks, but these vary widely, and 14 states have no manufactured home park statutes. In response to this, AARP contracted with the National Consumer Law Center to develop a model statute. The Manufactured Homeowners' Bill of Rights incorporates a two-year renewable lease requirement in which the level of future rent increases is disclosed in the lease and prohibits "tie-ins" and other unfair practices.
2005 American Housing Survey
Census Bureau Construction Report. "Cost & Size Comparisons for New Manufactured Homes and New Single Family Site Built Homes". May 2007.
HUD has responsibilities for the following state: AK, CT, DE, HI, KS, MA, MT, NH, OH, OK, VT, or WY. HUD. Housing Fact Sheet. http://www.hud.gov/offices/hsg/sfh/mhs/mhssht3.cfm
Updated by Jean C. Accius, II, Revised from earlier edition by Andrew Kochera, May 2001, AARP Public Policy Institute.
October 2007
©2007 AARP
All rights are reserved and content may be reproduced, downloaded, disseminated, or transferred, for single use, or by nonprofit organizations for educational purposes, if correct attribution is made to AARP.
Public Policy Institute, AARP, 601 E Street, NW, Washington, DC 20049