Ten Facts to Remember About Social Security
Introduction
Social Security provides family insurance—it is much more than a retirement investment plan. Although it is common today to hear about what return people receive from Social Security, the program was never intended to be an investment plan that competes with market returns. Here are some important facts to remember.
1. Social Security insurance protects all age groups.
Today, Social Security provides insurance coverage to almost 153 million workers and their families, and benefits to close to 46 million people of all ages. For a worker with average income, a spouse and two small children, Social Security's survivor protection is equivalent to a life insurance policy with a face value of $374,000. For the same worker, Social Security's disability benefits are worth more than a $234,000 disability policy.
More than 3.8 million Social Security beneficiaries are children of deceased, retired, or disabled workers; 4.8 million are widow(er)s; and over 5 million are disabled workers (see Figure 1).
Just under 3 in 10 Social Security beneficiaries are under age 65. Seven percent are under age 18, 9 percent are 18 through 54, and 13 percent are 55 through 64.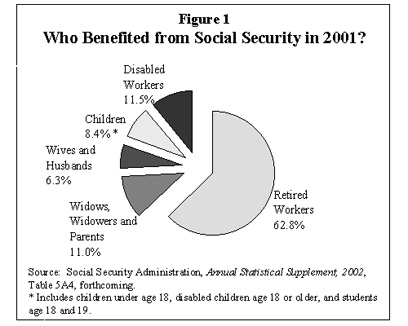 2. Social Security provides a retirement benefit that is guaranteed for life and is adjusted to keep pace with inflation.
Social Security retirement benefits continue to be paid throughout the lifetimes of retirees and are indexed to increase as prices rise. In contrast, pensions and personal savings accounts are rarely indexed to inflation, and retirees may outlive those assets. Even if inflation is only three percent per year, a non-indexed annuity eventually loses more than one-third of its value over 15 years.
3. Social Security benefits are adequately funded for another 39 years.
According to the Social Security trustees, even with no changes, Social Security will still be available to pay 73 percent of benefits after 2041. This is because taxes paid by current workers will continue to flow into the system, and can be used to pay benefits. The cost of making Social Security solvent for baby boomers is less than the cost of the 2001 tax cuts.
4. Social Security protects workers and their families against the risks of death and disability.
When reform proposals are compared to the Social Security system, the value of this disability and survivors' insurance should be included in the calculations, although often it is not.
5. Social Security benefits are progressive.
As social insurance, Social Security provides progressive benefits to low-income workers. Redistribution is accomplished through the benefit formula, which replaces a greater percentage of pre-retirement wages for workers who have low earnings throughout their careers.
6. Social Security is the principal source of income for two-thirds of older Americans, and virtually the only source of income for one-third.
More than 90 percent of those over age 65 receive Social Security benefits. In contrast, the Bureau of the Census reports that less than half of retirees receive income from pensions.3 Of those who receive Social Security, about one-quarter get 90 percent or more of their income from it (see Figure 2).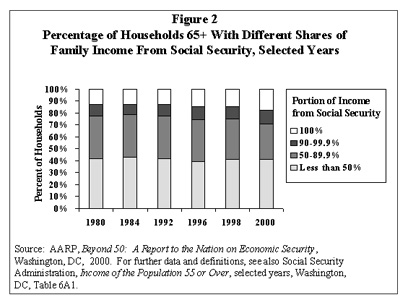 Pension income accounts for about 20 percent of total retirement income, while Social Security accounts for about 40 percent of the income of older retirees as a group, and the percent increases with age. The average monthly Social Security benefit today is $767. As the only guarantee of income in retirement, Social Security has performed admirably over the years, keeping roughly 40 percent of older Americans out of poverty (see Figure 3).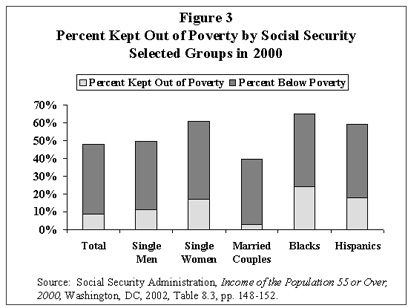 7. Social Security is crucial for women.
Approximately 24 million women, comprising 53 percent of beneficiaries, currently receive Social Security benefits. For non-married women over age 65, Social Security provides more than half of their income. Because, on average, women live longer, earn less, and are far more likely than men to take time out of the labor force for care giving, Social Security's inflation-adjusted, defined-benefit, lifelong guarantee is particularly important. Additionally, Social Security provides more than retirement benefits. Social Security Disability Insurance protects younger women in the labor force and their families. Widows with children may be eligible for survivor benefits at any age when caring for a child who is under age 16 or disabled and entitled to benefits. Unmarried children under age 18 may receive survivor benefits based on a parent's record.
8. Social Security provides critical income support to minorities.
Social Security is a primary source of income security for minority workers and their families. African Americans and Hispanics make up a disproportionately large segment of workers earning low and moderate wages. The Social Security benefit formula insures that these lower-wage workers and their families receive a higher return in benefit amounts relative to their contributions than higher-wage workers.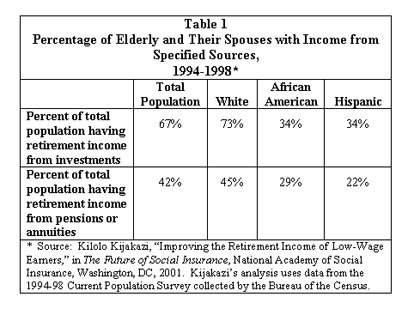 Older African Americans and Hispanics are less likely to have private pensions and assets (see Table 1). However, 86 percent of African Americans over age 65 and 77 percent of Hispanics over age 65 have income from Social Security. In fact, Social Security provides a higher portion of total retirement income for older African Americans and older Hispanics than it does for older whites (see Figure 4).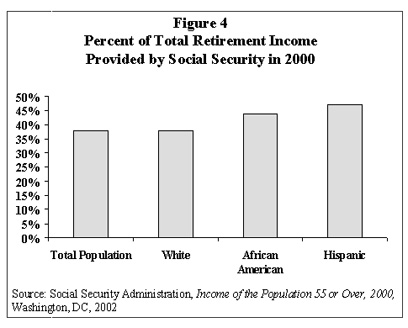 Minorities receive benefits from more than just the retirement program. While African Americans represent 12 percent of the U.S. population, they comprise almost 18 percent of workers receiving disability benefits. African Americans make up 23 percent of children and 17 percent of widows receiving survivor benefits.
9. Trust fund assets earned 6.7 percent in 2001, and the cost of administering Social Security is minimal.
The trust funds are invested in special U.S. Treasury securities that earn market-based returns—6.7 percent in 2001. In addition, the trust funds' holdings of government bonds are not subject to the risk of price losses if they are redeemed early, unlike other bond investments. The trust funds will continue to grow until 2017. Under the Social Security actuaries' mid-range assumptions, assets will total nearly $3.3 trillion by 2010. In 2001, the Social Security trust funds had administrative costs of about 7/10 of 1 cent of every dollar of income. Social Security can achieve these low administrative costs because all Social Security tax dollars are reserved solely to pay benefits and administer the program. Social Security's administrative costs are appreciably lower than the average administrative cost of a mutual fund, which is about 1.5 percent of the account balance.
10. Social Security is the foundation of workers' retirement security, but it was never intended to be the only source.
Social Security was intended to provide vital basic protections for workers and their families. However, savings and pensions are important components of overall retirement income security. Social Security replaces only 42 percent of the average worker's wage. For a comfortable retirement, one should also save through pension and personal savings plans to achieve a goal of replacing 70 to 80 percent of pre-retirement income.
Footnotes
Social Security Administration, www.ssa.gov/employers/newempl.htm, revised Jan. 2002.
Ibid.
Social Security Administration, Income of the Aged Chartbook 2000, Washington, DC, 2002, p. 3.
Kilolo Kijakazi "Improving the Retirement Income of Low-Wage Earners," in The Future of Social Insurance, National Academy of Social Insurance, Washington, DC, 2001.
Individuals generally earn a lower rate of return on their contributions. There are several reasons for this. First, Social Security provides survivors, dependents, and disability insurance. Social Security also redistributes between generations. Finally, Social Security's benefit formula explicitly redistributes between higher and lower-income workers.
Written by Laurel Beedon and Alison Shelton, AARP Public Policy Institute
October 2002
©2002 AARP
May be copied only for noncommercial purposes and with attribution; permission required for all other purposes.
Public Policy Institute, AARP, 601 E Street, NW, Washington, DC 20049