2003 Consumer Experience Survey: Insights on Consumer Credit Behavior, Fraud and Financial Planning
This snapshot of age 45+ consumers' financial knowledge and experience reflects mixed results.
While most of those surveyed have knowledge about credit reporting and the impact that it has on their credit report, many other consumers are still very confused about how information and payment patterns can affect their credit.


For information about products and services, they still rely heavily on friends and family - even with questions that are most properly addressed by professionals.


African-Americans and Hispanics in general are more likely to be in debt, less likely to hold financial investments, and more likely to have had bad experiences with major purchases and products.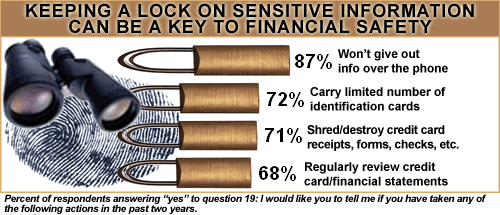 This survey is the fourth in a series of periodic studies conducted in 1993, 1999 and 2000. For this latest survey, Roper ASW conducted telephone interviews with 1,500 age 45+ individuals between December 26, 2002 and January 18, 2003. The report was written by Sislena Grocer Ledbetter of AARP Knowledge Management. For more information, please, contact Sally Hurme at 202-434-2152 or Bridgett Small at 202-434-6055.