Older Americans and the Recession
As Sandy Mackenzie explains in "The Impact of the Financial Crisis on Older Americans," http://assets.aarp.org/rgcenter/econ/i19_crisis.pdf, older Americans are affected by the recession through a variety of avenues – employment, housing prices, and the value of financial assets.
Employment
Workers of all ages have beenadversely affected by the business closings, layoffs, and hiring cutbacks of the recession that began in December 2007. The unemployment rate for persons aged 55 and over has more than doubled over the past year and a half, rising from 3.1 percent in December 2007 to 7 percent in June 2009. Both men and women have experienced sharp increases in unemployment.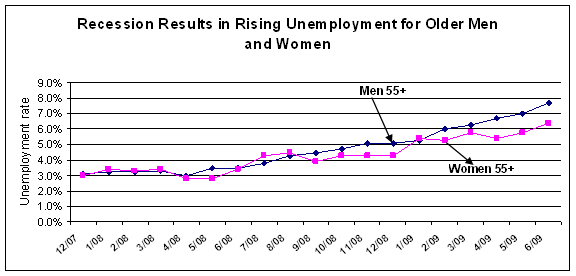 The unemployment rate for men aged 55 and over but not for women has been seasonally adjusted. 
Source: U.S. Bureau of Labor Statistics, accessed July 3, 2009.
Although the unemployment rate for persons aged 55 and older remains lower than that for younger workers, the rate has increased more sharply for those aged 55 and older than for the other age groups.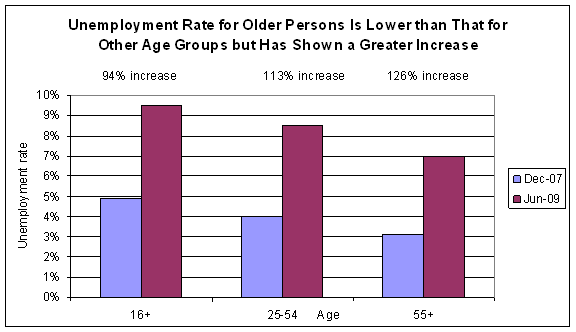 Source: U.S. Bureau of Labor Statistics, accessed July 21, 2009.
Not only have unemployment rates risen, but the duration of unemployment has gone up as well. At the start of the recession, unemployed persons aged 55 and over had been out of work an average of 20.2 weeks. Almost 23 percent were among the long-term unemployed; that is, they were without jobs but had been looking for work for 27 or more weeks. By June 2009, the average duration of unemployment for older workers was nearly 30 weeks and long-term unemployment stood at just over 38 percent.
Although the majority of older workers work full time, the percentage working part time because of slack working conditions has risen since the start of the recession. In December 2007, 2.4 percent of nonagricultural workers aged 55 and over were working part time because they could not find full-time work. By June 2009, 4.9 percent of older workers were working part time but would prefer to work full time.
Housing and Financial Markets
Nor are older Americans shielded from the home mortgage crisis or plummeting stock market. As Alison Shelton finds in "A First Look at Older Americans and the Mortgage Crisis," http://assets.aarp.org/rgcenter/econ/i9_mortgage.pdf, more than 684,000 homeowners age 50 and over were delinquent, were in foreclosure, or lost their homes during the six months ending December 2007. Older African Americans and Hispanics had higher foreclosure rates than whites of all ages.
Many older Americans were substantially exposed to the stock market at the beginning of the recession.  Nearly 60 percent of DC and IRA assets were invested in equities in 2007, and these accounts are estimated to have lost about $2 trillion, or 22 percent of their nominal value. Even older workers and retirees are estimated to have had 50 to 60 percent of their individual retirement savings in stocks. (Source: PPI tabulations of the 2007 Survey of Consumer Finances and S&P 500 returns from July 2007 to May 2009.)
Of course, many older workers and retirees lost little from the implosion of the stock market – because they had little in the way of financial assets to begin with. Over a third of workers (36 percent in 2007) had no pension coverage from their current or any former job, and no IRA.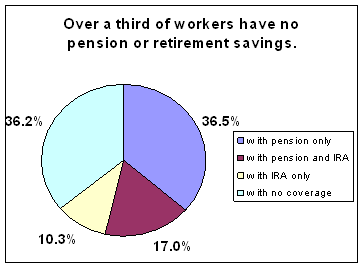 Source: PPI tabulations of the 2007 Survey of Consumer Finances.
Accumulated savings are especially low for these workers without pension coverage. The Auto-IRA and reformed Saver's Credit, included in President Obama's 2010 budget proposal, would offer access to workplace savings to millions of workers, and incentives to participate.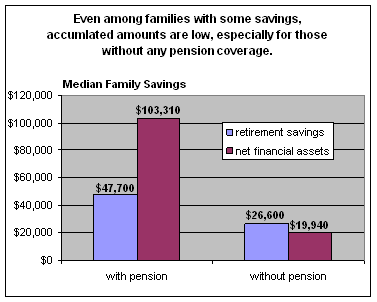 Source: PPI tabulations of the 2007 Survey of Consumer Finances.
Economic pressures are also contributing the erosion of retiree health insurance benefits—for both current and future retirees.  In this paperhttp://assets.aarp.org/rgcenter/econ/i4_veba.pdf Ellen O'Brien describes the changes made to retiree health benefits for U.A.W. workers at the three U.S. automobile manufacturers and the risks that arise from the new VEBA trust.  
Our Social Safety Net
Social Security claims are on the rise as the souring employment market forces older Americans out of the workforce and diminishes their personal savings. The number of applications for retirement benefits was nearly 9 percent greater than expected this fiscal year to date. (Source: Stephen C. Goss, Chief Actuary, Social Security Administration, May 28, 2009. Data are for October 2008 through May 2009.)
More generally, this recession highlights the importance of our social safety net to families of all ages. In 2008, 51 million people received some sort of Social Security benefit, including about 15 million beneficiaries under age 65. See "Social Security: Ten Facts that Matter" by Selena Caldera, at http://assets.aarp.org/rgcenter/econ/fs154_socsec.pdf.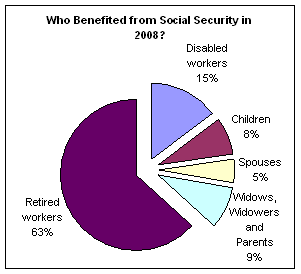 The Earned Income Tax Credit (EITC) is the most important form of income support for workers, and older workers with incomes low enough to qualify them for the EITC are among the most vulnerable Americans. But the credit for workers without qualifying children is not available to workers over age 64 or under age 25.  "The Earned Income Tax Credit and Older Workers" by Janet McCubbin, http://assets.aarp.org/rgcenter/econ/i20_eitc.pdf, explores the rationale behind these age restrictions and concludes that they should be eliminated. 
Similarly, restrictive asset tests prevent millions of older poor and low-income people from getting needed assistance – including cash assistance, food assistance, and help with the costs of health care and long-term care. In a forthcoming report for PPI, Mark Merlis examines how many more people would be eligible for help under various options for reform.
We don't yet have official estimates of the increase in poverty since the recession began in December of 2007. Although data can be expected to show that more Americans were in poverty in 2008 than a year earlier, the official poverty measure masks the true depth of economic insecurity for millions of the elderly. A modernized poverty measure, sorely needed to paint a more accurate picture of deprivation, shows that millions more elderly Americans live in poverty than are counted using the traditional measure, and further highlights the need for a strong social safety net.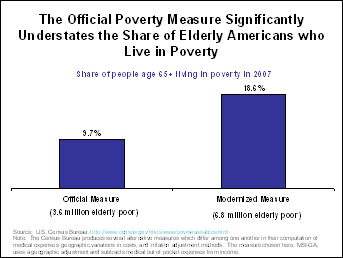 Written by the Economics Team, AARP Public Policy Institute
July 2009
©2008 AARP
All rights are reserved and content may be reproduced, downloaded, disseminated, or transferred, for single use, or by nonprofit organizations for educational purposes, if correct attribution is made to AARP.
Public Policy Institute, AARP, 601 E Street, NW, Washington, DC 20049