The Nursing Home Workforce: Certified Nurse Assistants
Introduction
Certified Nurse Assistants/Aides (CNAs) are often the principal caregivers in nursing homes. CNA duties include providing resident care and assisting other direct care nursing staff such as Registered Nurses (RNs) and Licensed Practical Nurses (LPNs).
CNAs assist residents with activities of daily living (ADLs) such as eating, bathing, using the toilet, dressing, and lifting and helping residents in or out of bed (referred to as transferring). They also assist with instrumental activities of daily living (IADLs), including administering medications. Providing emotional support for residents is another important aspect of their jobs.
According to the National Nursing Home Survey, there were nearly 1.5 million nursing home residents age 65 and over in 17,000 homes in 1997. Total staff employment in nursing homes was 1.4 million, more than 950,000 of whom were nursing staff. Nursing staff include RNs, LPNs, and CNAs. CNAs held about 617,000 or 65 percent of all nursing jobs in nursing homes in 1997. CNAs also work in hospitals, residential care facilities, and private households.
Although, CNAs are not required to have a high school diploma or prior work experience, federal law requires that CNAs in Medicare and Medicaid-certified nursing homes complete a minimum of 75 hours of training and pass a competency evaluation within four months of employment.
Working Conditions

The job of a CNA can be difficult and hazardous. CNAs have demanding workloads and are often responsible for manually lifting and turning residents, which can cause lower back injuries. They can also be exposed to infections, diseases (such as tuberculosis), and physical violence from residents.
Because nursing homes must provide care on a 24-hour basis, CNAs are often required to be available to work evenings, nights, weekends, and holidays.
In 1999-2000, according to the Hospital and Healthcare Compensation Service (HHCS), average hourly earnings for CNAs in nursing facilities was $8.16.
Currently, nursing homes are experiencing nurse staffing shortages, especially among CNAs. Annual turnover rates in nursing homes are very high, in some cases exceeding 100 percent for CNAs. This high turnover rate is partly attributable to competition with other health care employers and other service industries. In addition, occupational factors such as low pay, limited advancement, poor management-employee relations, and difficult work contribute to turnover.
Staffing Levels

Federal law requires that nursing facilities maintain a sufficient level of nursing staff to meet resident needs on a 24-hour basis; however, the law does not define "sufficient." Some states have established their own nurse staffing levels in order to promote quality care for residents. According to a recent Institute of Medicine (IOM) report, there is growing evidence that nurse staffing levels are related to quality of care in nursing homes.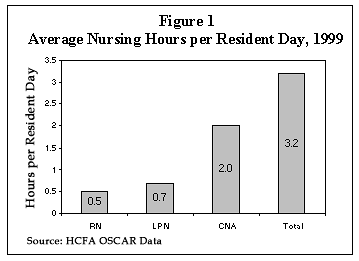 As the principal caregivers in nursing homes, CNAs averaged 2.0 hours per resident per day in 1999, or an average of 40 minutes per resident in an eight-hour shift (Figure 1). This was 3 to 4 times the number of minutes averaged by LPNs and RNs, which were 14 and 10 minutes per resident per shift, respectively. The average total for all nursing staff (CNA, LPN, and RN combined) was 64 minutes per resident per shift.
In 2000, the Health Care Financing Administration (HCFA) recommended in a report to Congress that optimal minimum CNA staffing levels be set at 2.9 hours per resident per day or 58 minutes per eight-hour shift – 18 minutes higher than the 1999 average amount provided to residents.
In addition to nursing hours per resident day, the ratio of full-time equivalent (FTE) nursing staff to residents is another measure of staffing levels. FTE is defined as working 35 or more hours a week. In 1997, the ratio of FTE CNA staff per 100 residents was 38.3 for all facilities (Table 1).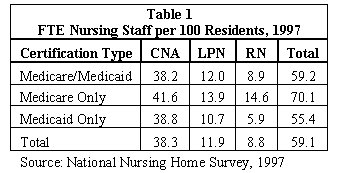 Ninety-five percent of nursing homes are certified for Medicaid or Medicare or both. Nursing homes that are Medicaid only certified have fewer nursing staff FTEs than Medicare only certified homes. Typically, Medicare pays more per day for resident care than does Medicaid because Medicare residents require skilled care.
Occupational Outlook
According to the Bureau of Labor Statistics (BLS), most full-time CNAs work about 40 hours a week. Staffing shortages have resulted in some CNAs working more than one shift in a day and more than 40 hours in a week. The number of contingent and part-time CNAs is also growing. Figures reported in the Current Population Survey show that approximately 24 percent of CNAs (including orderlies and attendants) in nursing facilities worked part-time in 1999.
Back injuries or musculoskeletal disorders (MSDs) resulting from manually lifting and transferring residents have become an occupational hazard. In 1998, the National Institute for Occupational Safety and Health (NIOSH) reported that female CNAs and LPNs were about 2 ½ times more likely to experience a work-related low back disorder than all other female workers. To reduce the risk of MSDs, some nursing facilities are using team lifting methods or mechanical lifting devices. Indeed, ergonomics regulations, promoting the use of lifting devices and other methods to reduce MSDs in nursing facilities, were proposed by the Occupational Safety and Health Administration (OSHA) and scheduled to take effect in 2001. However, Congress repealed the regulations before they took effect.
Low pay, lack of advancement opportunities, and difficult work contribute to the high turnover rates among CNAs. Some states and nursing facilities are trying to deal with these issues by creating incentives such as higher wages, benefits, some advancement opportunities, supportive management, and better working conditions. Tight labor markets also pose threats to nurse staffing levels in nursing facilities. Compounding the situation, the BLS reports that the demand for CNAs is expected to increase faster than the average for all occupations in response to the long-term care and rehabilitation needs of a growing elderly population.
Sources
—American Health Care Association (2000), United States Nursing Facilities;
—BLS (2000), Occupational Outlook Handbook, 2000-01 Edition;
—HCFA: Martin, Shannon et al. (2000), Health Care Indicators;
—HCFA (2000), Report to Congress: Appropriateness of Minimum Nurse Staffing Ratios in Nursing Homes;
—HHCS (2000), AAHSA Nursing Home Salary and Benefits Report, 1999-2000;
—IOM (2001), Improving the Quality of Long-Term Care;
—National Center for Health Statistics (NCHS): Gabrel, Celia S. (2000), "An Overview of Nursing Home Facilities: Data from the 1997 National Nursing Home Survey." Advanced Data Number 311;
—NCHS: Gabrel, Celia S. (2000), "Characteristics of Elderly Nursing Home Current Residents and Discharges: Data from the 1997 National Nursing Home Survey." Advanced Data Number 312;
—NIOSH (1998), Low Back Disorders (www.cdc.gov/niosh/nrlowbck.html).
Written by Steven R. Gregory, AARP Public Policy Institute
July 2001
©2001 AARP
May be copied only for noncommercial purposes and with attribution; permission required for all other purposes.
Public Policy Institute, AARP, 601 E Street, NW, Washington, DC 20049