Introduction
People enter nursing homes for a variety of reasons. Some may enter for a brief time when they leave the hospital because they need sub-acute care, such as skilled nursing care, medical services, and therapies. Others, however, need long-term care (LTC). LTC is generally defined as a broad range of personal, social, and medical services that assist people who have functional or cognitive limitations in their ability to perform self-care and other activities necessary to live independently.
For many older persons, LTC is provided in the home by relatives, friends, and/or paid personnel, or in small group settings with intermediate levels of care. However, nursing homes are key providers of LTC for those individuals who have serious functional or cognitive disabilities or medical problems and who require more formal, 24-hour care
Resident Characteristics
According to the 1997 National Nursing Home Survey, there were 1,465,000 residents age 65 and older in nursing homes (about 4.3 percent of the US population age 65 and older in 1997). Nearly three-fourths of these residents were women, and about one-half were age 85 and older.
In 1997, about 75 percent of all nursing home residents 65 and older required assistance in three or more activities of daily living, including bathing, dressing, eating, transferring from bed to chair, and using the toilet. About 42 percent of nursing home residents were diagnosed with dementia, and 12 percent had other psychiatric conditions, such as schizophrenia and mood disorders.
Utilization
Lengths of stay in nursing homes vary widely and can be measured in different ways. Many people enter for brief stays; in 1997, 67 percent of people who left nursing homes had stayed for three months or fewer. However, the same data show that, of all those currently living in a nursing home in 1997, only 18 percent had been there fewer than three months (see Figure 1).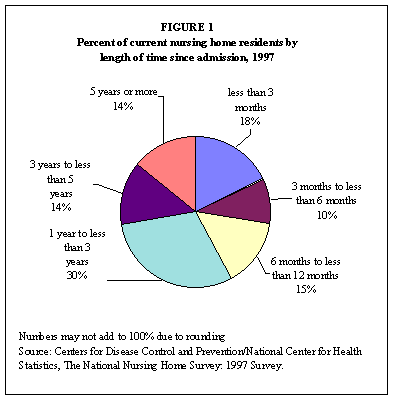 Overall, in 1997, the average length of time since admission among all residents currently living in a nursing home was 2.5 years. This average varied by gender and marital status (see Figure 2)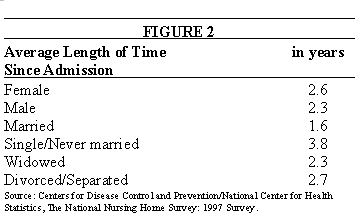 Capacity
The number of certified nursing homes in the US fell from 19,100 in 1985 to 17,083 in 1999 — an 11 percent decrease. However, the number of nursing home beds increased from 1.62 million in 1985 to 1.81 million in 1999 — a 12 percent increase. The national average occupancy rate of nursing homes was 82.7 percent in 1999, a decrease from 1994 when the occupancy rate was 85.5 percent.
Cost
The average annual cost of care in a nursing home in 1998 was about $56,000 or $153.00 per day1. Total national expenditures for nursing home care in 1998 amounted to $78.6 billion (see Figure 3).
Medicare covers up to 100 days of skilled nursing home care per benefit period. However, after 20 days, beneficiaries must pay a coinsurance ($99 per day in 2001). Medicare will only pay for nursing home care preceded by a three-day hospital stay. Medicare's eligibility requirements are established at the federal level by the Health Care Financing Administration (HCFA).
About 70 percent of nursing home residents are supported, at least in part, by Medicaid. Medicaid reimbursement systems for nursing homes vary considerably from state to state and averaged $95.72 per day in 1998.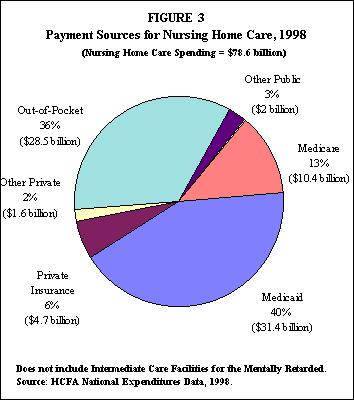 Regulating the Quality of Nursing Homes
Nursing homes receive Medicaid and Medicare payments for their long-term care services only if the home is certified by the state to be in substantial compliance with the requirements of the Nursing Home Reform Act of 1987, part of the Omnibus Budget Reconciliation Act of 1987. This legislation reformed state and federal oversight of nursing homes and established new standards for quality and resident rights.
The new law has not eliminated quality issues in nursing homes, as shown in recent reports by the US General Accounting Office (GAO) and HCFA. In response, HCFA has developed additional standards and is refining protocols for federal oversight of nursing homes. For more information about quality enforcement, see PPI Fact Sheets: "The 1987 Nursing Home Reform Act" and "Federal and State Enforcement of the 1987 Nursing Home Reform Act"
Sources
C. McKeen Cowles, 1998 Nursing Home Statistical Yearbook;

HCFA, 1998 National Health Expenditures;

Centers for Disease Control and Prevention/National Center for Health Statistics, The National Nursing Home Survey: 1997 Summary;

C. Harrington et al., 1998 State Data Book on Long-term Care Program and Market Characteristics;

US GAO, Nursing Homes: Complaint Investigation Processes Often Inadequate to Protect Residents, 1999;

HCFA, Interim Report on Nursing Home Quality of Care and Implementation of the Nursing Home Initiative, Fall 2000.
Footnote
Number reflects all free-standing nursing homes, both public and private, regardless of level of care. Number excludes care provided in Intermediate Care Facilities for the Mentally Retarded and facilities operated by the US Department of Veteran Affairs (HCFA, 1998)
Written by Sheel M. Pandya and the Independent Living/Long-Term Care Team, AARP Public Policy Institute
February 2001
©2001 AARP
May be copied only for noncommercial purposes and with attribution; permission required for all other purposes.
Public Policy Institute, Public Affairs, AARP, 601 E Street, NW, Washington, DC 20049