Rebalancing: Ensuring Greater Access to Home and Community-Based Services
Introduction
States vary greatly in the proportion of Medicaid long-term care (LTC) funds expended on home and community-based services (HCBS).
In 2005, Oregon and New Mexico spent over two-thirds of their Medicaid LTC dollars on HCBS. In contrast, that same year, Washington, D.C. and Mississippi spent less than 20 percent of their Medicaid LTC dollars on HCBS.
To overcome the "imbalance" of state spending for institutional services and HCBS, all states, at varying rates, have been "rebalancing" the way that Medicaid LTC services are delivered and financed to allocate a higher proportion of dollars to HCBS.
Medicaid Spending
The single largest barrier to greater rebalancing is the fact that Medicaid—the largest payer for LTC services—entitles individuals to nursing home care, whereas providing HCBS is optional. States can provide Medicaid HCBS through 1) medically-related home health services; 2) personal care services, an optional program offered to adults by 26 states plus the District of Columbia; 3) HCBS waivers, which give states considerable flexibility in the groups of Medicaid recipients covered and services provided; and 4) a new option authorized by the Deficit Reduction Act of 2005 that allows states to provide HCBS without a waiver, while controlling enrollment and spending.
Nationally, Medicaid HCBS spending has increased significantly over the past two decades. Over the period 1992-2005, Medicaid HCBS expenditures grew at a rate of 15 percent per year, more than double the rate of growth for overall Medicaid LTC expenditures.
In 1992, total Medicaid LTC expenditures amounted to almost $39 billion, only 15 percent of which was for HCBS. By 2005, Medicaid LTC expenditures had increased to $94.5 billion, and the portion that funded HCBS had increased to 37 percent (see Figure).
Most Medicaid HCBS spending goes toward HCBS waivers, the majority of which pays for services to people with developmental disabilities. These HCBS waivers remain limited due to funding constraints, and do not meet demand in most states. States use a variety of controls to limit Medicaid costs for HCBS, including waiting lists, enrollment caps, service limits, and spending caps.
As the Figure shows, expenditures for nursing home care still far exceed those for HCBS. In addition, many states have an over-supply of nursing home beds at the same time they have waiting lists for HCBS.
Drivers of Change
Persons with disabilities and their families overwhelmingly prefer HCBS over institutional care, and their increasing demand to live at home or in the community has been the impetus for the gradually increased proportion of Medicaid spending for HCBS.
In addition, the 1999 Olmstead Supreme Court decision increases state responsibility to provide a range of HCBS options. The Court ruled that the Americans with Disabilities Act requires states to provide care for people with disabilities in community settings when appropriate. As a result, the federal government and the states have changed some of their policies and programs to increase access to HCBS.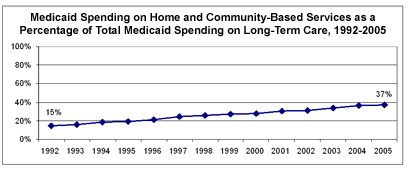 Source: Burwell, Sredl, and Eiken. "Medicaid Long Term Care Expenditures in FY 2005." Medstat: Cambridge, MA. 2006.
In fiscal year 2001, the federal government awarded Systems Change grants to assist states in reforming their LTC systems. The federal government has granted approximately $240 million to the states over the past five years to address the need for personal assistance services, shortages of direct service workers, transitions from institutions to the community, respite services for caregivers and family members, transportation options, resource centers to provide information and assistance, housing linked with support services, and overall systems transformation.
As part of this initiative, the federal government has awarded Money Follows the Persons (MFP) grants to help states move people from institutions into the setting of their choice. Additional MFP grants of $1.75 billion will be awarded over the next five years, starting in January 2007.
Conclusion
Older people and people with disabilities who are eligible for publicly funded services now have more options to obtain services in their homes and communities and thereby exercise greater control over their lives. However, progress toward this goal has been uneven and slow in many states. Consumers and their advocates continue to voice a need for improved and increased HCBS options.
Sources:
Crisp et al., "Money Follows the Person and Balancing Long Term Care Systems: State Examples," 2003 [Thomson/Medstat]; Talking Points: State Long-Term Care Reform, A Notebook for AARP State Offices, 2005 [unpublished]; Gibson et al., Across the States: Profiles of Long-Term Care, 2004 [AARP Public Policy Institute]; Burwell et al. Medicaid Long Term Care Expenditures in FY 2005, 2006 [Thomson/Medstat]; Shirk, "Rebalancing Long-Term Care: The Role of the Medicaid HCBS Waiver Program," 2006 [The George Washington University].
Written by Wendy Fox-Grage and Marc Freiman, AARP Public Policy Institute; and Barbara Coleman, Independent Consultant
September 2006
©2006 AARP
All rights are reserved and content may be reproduced, downloaded, disseminated, or transferred, for single use, or by nonprofit organizations for educational purposes, if correct attribution is made to AARP.
Public Policy Institute, AARP, 601 E Street, NW, Washington, DC 20049