In Brief: Complementary and Alternative Medicine: The Road Less Traveled?
This In Brief highlights key points of the Issue Brief, "Complementary and Alternative Medicine: The Road Less Traveled?"1 Complementary and alternative medicine (CAM) covers a range of medical approaches, therapies, and philosophies that generally have been rejected or neglected by physicians in the United States. CAM therapies can be used in conjunction with ("complementary") or instead of ("alternative") conventional treatments; examples include acupuncture, homeopathy, naturopathy, herbal therapies, chiropractic services, and massage therapy. Definitions of CAM usually exclude therapies used in conventional medicine.
Signs of a new openness to CAM have begun appearing in recent years: more research is being done on CAM practices; medical schools are offering CAM courses; some private insurers are covering CAM in conjunction with conventional treatments; federal programs are examining CAM treatments; state governments are passing legislation on access to CAM and the scope of practice of its practitioners; and media coverage of CAM is becoming prominent. Within the National Institutes of Health, the National Center for Complementary and Alternative Medicine is providing information on the safety and efficacy of various CAM treatments. A White House Commission on CAM was established in early 2000.
Profile of CAM Users
Among the top variables that predict use of CAM therapies are higher levels of education and poorer overall health. The largest groups of CAM users are individuals ages 50 to 64, and individuals age 65 and older are joining the ranks of CAM users in increasing numbers. In 1997, 42 percent of Americans (83 million) used some form of CAM. The majority who used a CAM therapy did so as complementary to, rather than as an alternative to, a conventional treatment. Conservative estimates show that total spending on CAM practitioner services was about $21.2 billion in 1997. The majority (58%) of this amount was paid out-of-pocket.
CAM and the Medical Community
In 1997-1998, 64 percent of medical schools offered courses in CAM. The American Medical Association encourages its members to become informed about CAM. About 13 percent of hospitals offer CAM therapies, and integrative medicine clinics, which integrate conventional and CAM approaches, have surfaced in recent years.
Under 40 percent of CAM use is disclosed to physicians. This communication gap between physicians and their patients can cause problems. For example, it is difficult for health professionals to support their patients in making informed, safe choices without knowledge of their CAM usage. One particular concern is the interaction between herbal remedies and prescription medications.
Insurance Coverage of CAM
Since relatively little is known about the cost effectiveness of CAM, many insurers are cautious about offering coverage for CAM. Proponents of CAM coverage suggest that insurers would reduce costs from CAM's focus on preventive care. Opponents assert that coverage would lead to more practitioner visits, resulting in higher costs. One-half to two-thirds of insurers offer coverage of at least one type of CAM. Coverage can vary dramatically across plans. Chiropractic is the most common type of CAM to be covered.
The federal Medicare program's CAM coverage includes Christian Science nursing facilities and limited chiropractic. The program will test the Medicare Lifestyle Modification Program designed to reverse heart disease. Medicare is also evaluating biofeedback for the treatment of urinary incontinence and acupuncture.
CAM and the States
Many states have considered bills in recent years related to licensure, reimbursement, scope of practice, and access to CAM providers. Medicaid programs also can cover CAM as an optional service (see chart). Some states have issued mandates relating to CAM.
Washington state has had the most extensive mandate, requiring that insurers provide coverage for treatments by every category of provider. After many court rulings, the law is in place. Its experience could provide information to other states.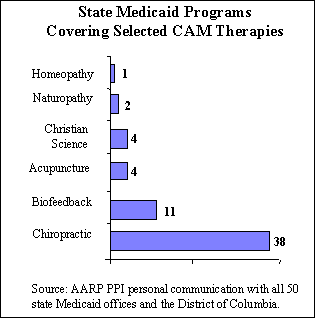 Conclusions
CAM has grown in popularity over the last decade. Millions of Americans of varying age, income level, and health status use one or more CAM treatments, and pay for the majority of these expenses out-of-pocket. Acceptance of CAM has also grown in parts of the medical community, although many remain skeptical.
This skepticism has varied repercussions. First, a general lack of communication between patients and providers regarding CAM usage persists. Second, although growing, limited medical literature about CAM exists. Third, cost-effectiveness studies regarding CAM therapies are scarce.
For health and safety reasons, it is important that improved communication among physicians and patients about CAM treatment use take place. Continued physician education on CAM topics and common terminology in referencing CAM perhaps could facilitate this communication. Also, more comprehensive studies of CAM practices are needed; these could catalyze conversations among the medical community, federal and state governments, and insurance providers regarding the potential value of these treatments.
Because CAM can take so many forms, it is difficult to generalize about the effectiveness of CAM as a whole. As education and research of CAM continues, it should become easier to identify and evaluate those treatments that effectively complement conventional medicine.
Footnote
Craig Caplan and Kelly Griffin. "Complementary and Alternative Medicine: The Road Less Traveled?," AARP PPI Issue Brief #46, November, 2000.
Written by Craig Caplan and Kelly Griffin, AARP Public Policy Institute
November 2000
©2000 AARP
May be copied only for noncommercial purposes and with attribution; permission required for all other purposes.
Public Policy Institute, AARP, 601 E Street, NW, Washington, DC 20049