FYI: A Profile of Uninsured Persons Age 62 to 64
In 1996, the majority of persons age 62-64 had insurance through their employer or a spouse's employer. However, 16 percent had no coverage at all (Figure 1). Since medical problems increase with age, lack of health insurance is a critical issue for this age group.
Almost 1 million (902,000) persons between the ages of 62 and 64 were uninsured in 1996. Of this group, about:

three in five were women;
two in five were widowed, divorced/separated, or never married;
two in five did not have a high school diploma;
two in five were members of minority groups; and
two in five participated in the labor force on either a full-time or part-time basis.

Among the uninsured, 25 percent lived in households with incomes below poverty; another 18 percent lived in households with incomes between 100% and 150% of poverty (Figure 2).
Finding solutions for the lack of insurance among those age 62 to 64 poses many of the same challenges as solving that problem for younger adults. Not only do many individuals lack access to health coverage due to poor health status, but research has shown that the high cost of premiums is the most common reason for being uninsured at any age. Since many uninsured persons have low incomes, solutions must make health insurance affordable as well as accessible.
Figure 1
Insurance Coverage for
Persons Age 62 to 64, 1996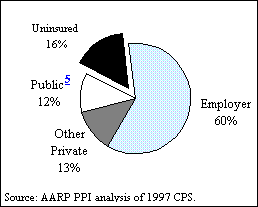 Figure 2
Percent of Persons Age 62 to 64
with Incomes below 150% of Poverty, 1996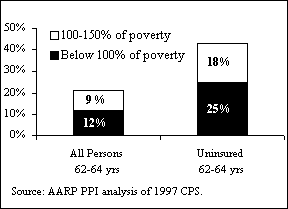 Footnotes
AARP Public Policy Institute (PPI) analysis of the March 1997 Current Population Survey (CPS).
The 1996 US Census Bureau poverty level was $8,163 for individuals and $10,507 for couples; 150% of poverty was $12,245 for individuals and $15,761 for couples.
Donelan, Karen et al, (1997), "Whatever happened to the health insurance crisis in the United States?" Journal of the American Medical Association, 276(16), pgs. 1346-1350.
May not sum to 100% due to rounding.
Includes Medicare, Medicaid, and other public insurance.
Written by Gerry Smolka, Normandy Brangan, and Carlos Figueiredo, AARP Public Policy Institute
April 1998
© 1998 AARP
May be copied only for noncommercial purposes and with attribution; permission required for all other purposes.
Public Policy Institute, AARP, 601 E Street, NW, Washington, DC 20049