Mental Health Parity: An Overview of Recent Legislation
Introduction
Although almost all employers who offer health insurance include some mental health care benefits, many plans restrict the mental health care they will cover through such means as limiting annual or lifetime spending, the number of inpatient days, or outpatient visits. The limits on mental health care are generally much more restrictive than those on other types of care. For example, the median lifetime limit for mental health care spending in an indemnity plan is $40,000, whereas the typical lifetime limit for total spending is $1 million. Parity legislation seeks to improve coverage of mental health care by closing the gap between benefits for physical and mental health care.
Federal Action
The federal Mental Health Parity Act went into effect in January 1998. It requires an employer who currently offers some coverage for mental health care to equalize annual and lifetime spending limits for mental and physical illnesses. Employers with fewer than 50 employees are exempt from the federal law, as are employers who experience more than a one percent increase in their premiums as a result of implementing the parity requirement.
By equalizing spending limits, the federal Mental Health Parity Act addressed a common restriction on mental health care coverage. In 1996, half of all traditional indemnity plans limited lifetime spending for inpatient care or annual spending for outpatient care.
However, more than one-third of traditional indemnity plans also limited the number of inpatient days, and almost one-third limited the number of outpatient visits. Such limitations are even more common in other types of plans; over half of all point-of-service plans limited the number of inpatient days, and two-thirds of HMOs limited inpatient days and outpatient visits. These limitations were not addressed by the Mental Health Parity Act. An amendment to expand the Act (H.R. 3568) was introduced in March 1998 to prohibit day and visit limitations or cost-sharing (deductibles, coinsurance, or copayments) applied to mental health care if similar limitations are not applied to physical health care.
State Action
As of June 1998, 18 states (Figure 1) had legislated parity for restrictions on mental health care coverage not addressed in the federal Mental Health Parity Act. State-level parity laws have typically eliminated differences in deductibles, coinsurance, and copayments, or limits on the numbers of inpatient days or outpatient visits.
Figure 1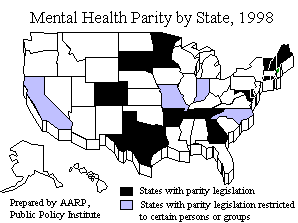 The scope of the law varies from state to state. In two states - Indiana and North Carolina - the law only applies to state employees. California's parity law applies only to disability plans, and Missouri's only to managed care plans. In addition, some states require that employers offer mental health care benefit options, while some others mandate that all plans must include mental health care coverage.
Over the last several years, most states have considered some kind of parity legislation. In 1996, about 30 parity bills were introduced in state legislatures; in 1997, 95 bills were introduced in 39 states. As of March, 1998, about 70 bills were pending in 30 states throughout the United States.
Serious Mental Illnesses versus All Mental Illnesses
One widely debated policy issue is whether parity should be extended to all persons with mental illnesses or limited to those with serious mental illnesses. These serious or "biologically-based" mental illnesses generally include such conditions as major depressive disorders, psychotic disorders, and autism. Among adults, 5.4 million persons experience severe and persistent mental illnesses in a given year. Nearly 10 times that number, 48.2 million, are diagnosed with some mental illness in a given year.
There is considerable variation in the parity bills enacted at the state level with respect to the breadth of the definition of mental illness. In seven of the 18 states with parity laws by April 1998, parity applies to substantially all mental illnesses. These states are Arkansas, Georgia, Indiana, Maryland, Minnesota, Tennessee, and Vermont. In the others it is limited to care for serious mental illnesses.
Figure 2 below compares bills in 1997 that included all mental illnesses to bills that included serious mental illnesses only. Forty-seven bills were acted upon that year in 22 states. A slight majority of the bills (27) would have applied to care for all mental illnesses; fewer (20) were restricted to serious mental illnesses only.
Figure 2
State Legislative Activity
and "Serious Mental Illnesses," 1997
Mental Health
Parity Bills
Acted Upon
47

Included All
Mental
Illnesses
27

Passed 5
Failed 22

Serious
Mental
Illnesses Only
20

Passed 3
Failed 17
Data Source: Health Policy Tracking Service
Prepared by AARP Public Policy Institute
Although a more inclusive definition of mental illness may apply to nearly 10 times as many people as a restricted one, the breadth of the definition of mental illness did not appear to make a bill much more or less likely to pass.
Benefits and Costs of Parity
The National Advisory Mental Health Council (NAMHC) identifies five benefits from mental health parity:
Overcoming discrimination against those with mental illnesses.
Preventing health plans from becoming financially disadvantaged because of adverse selection; requiring parity in all plans levels the playing field.
Reducing out-of-pocket expenses for people with mental illnesses and their families.
Reducing disability by facilitating access to appropriate treatment.
Increasing the productivity and social contributions of people affected by mental illnesses.
Along with these benefits come costs. Recent research and experience suggest that these may be low. The most recent data available come from a study by the Substance Abuse and Mental Health Services Administration (SAMHSA) that found that full mental health parity for all mental illnesses would raise premiums for family coverage an average of 3.4 percent. The impact of parity on premiums would vary widely by plan type. For example, premium increases would be smallest in tightly managed HMOs (0.6 percent), higher in point-of-service plans (3.4 percent), and higher still in fee-for-service plans (4.8 percent).
An earlier study by RAND estimated that in a managed care environment the removal of lifetime dollar limits for the treatment of mental illnesses would cost only one dollar per enrollee per year. NAMHC found that in states with mental health parity laws, premiums for managed care patients rose about one-half of one percent in the first year. SAMHSA's study provides further evidence that state parity laws have had a small effect on premiums.
State Legislation on Parity: Only One Part of the Picture
If employers attempt to offset the potential costs of complying with the federal Mental Health Parity Act by imposing more limitations on care through inpatient day or outpatient visit restrictions or increased cost-sharing, state-level parity legislation addressing those restrictions for private group health insurance may become increasingly important.
However, the applicability of state regulations for private group health insurance is restricted by the federal Employee Retirement Income Security Act of 1974 (ERISA). ERISA can exempt self-insured plans from state-level regulation. Due to ERISA exemptions, the primary health insurance plans of 40% of Americans under 65 in private group health insurance plans are not subject to state-level regulation.
In addition, many people who are receiving mental health services are covered by public rather than private insurance. In 1996, public sector funding accounted for 52.6 percent of national health expenditures for the treatment of mental illnesses. Thus, while state reforms are a crucial part of achieving parity, improving coverage of mental health care for all Americans will require federal initiatives as well.
Footnotes
Foster Higgins National Survey of Employer-Sponsored Health Plans, 1996, p 39.
KPMG, Health Benefits in 1997.
In 1997, 40 percent of all plans, including indemnity and managed care, imposed an annual dollar limit on outpatient psychiatric care. Other types of restrictions were even more widespread. Forty-eight percent of all plans limited the number of outpatient visits, and 86 percent limited inpatient care (The Hay Group, Health Care Plan Design and Cost Trends 1988 through 1997, May 1998, pp 2,8).
Foster Higgins.
Health Policy Tracking Service, Issue Brief, Behavioral Health, Parity, 1997.
Health Policy Tracking Service, Issue Brief, Behavioral Health, Parity, 1998.
Center for Mental Health Services, Mental Health, United States, 1996.
Refers to all parity bills acted upon in 1997. Health Policy Tracking Service, Issue Brief, Behavioral Health, Parity, 1997.
In comparing these results with those of prior studies, note that: (1) many studies only estimated the impact upon premiums for single adults instead of families; and (2) SAMHSA's baseline for the increase were plans that had already equalized lifetime and annual spending limits. SAMHSA, The Cost and Effects of Parity for Mental Health and Substance Abuse Insurance Benefits, 1998,
Sturm, Robert. "How Expensive is Unlimited Mental Health Care Coverage Under Managed Care?" Journal of the American Medical Association; November 12, 1997.
NAMHC Interim Report, 1997.
SAMHSA, p 37.
Jensen, Gail, et al. "Mental Health Insurance in the 1990s: Are Employers Offering Less to More?" Health Affairs, May/June 1998.
Employee Benefit Research Institute. Issue brief. Implications of ERISA for Health Benefits and the Number of Self-funded ERISA Plans. January 1998.
U.S. DHHS, Center for Mental Health Services. Health Care Spending: National Expenditures for Mental health, Alcohol, and Other Substance Abuse Treatment 1996. p. 31.
Written by Sharon Bee and Mary Jo Gibson, AARP Public Policy Institute
September 1998
©1998 AARP
May be copied only for noncommercial purposes and with attribution; permission required for all other purposes.
Public Policy Institute, AARP, 601 E Street, NW, Washington, DC 20049