Biologics in Perspective: Expanded Clinical Options amid Greater Cost Scrutiny
Biologics Are Becoming More Mainstream
Once prescribed to treat only rare genetic diseases, biologics have rapidly become a more common treatment option for people with conditions such as multiple sclerosis, diabetes, cancer, and rheumatoid arthritis. Worldwide, biologics account for about one out of eight prescriptions written, and U.S. sales of biologics increased by 20 percent to $40.3 billion in the past year.
Across all pharmaceutical expenditures, three of the top ten therapeutic classes (by sales) in 2006 were predominantly inclusive of biologics: erythropoietins for treatment of anemia (#5), antineoplastic monoclonal antibodies for treatment of cancer (#7), and insulin sensitizers for treatment of diabetes (#9).
Differences between Biologic and Non-biologic Prescription Drugs
Biologics differ from non-biologic prescription medicines in several ways:
Traditionally-developed pharmaceuticals tend to be small molecule products. In contrast, biologics are "usually substantially larger, more complex molecules that may be mixtures of distinct entities."

Because biologics tend to be administered by infusion (in a physician's office) or by self-injection, they usually require special handling (such as refrigeration), close patient monitoring, and expanded patient support.

Biologics' average annual treatment costs can be 10, 15 or even 20 times higher than those of most non-biologic drugs.

The U.S. Food and Drug Administration (FDA) lacks a clear regulatory pathway through which generic biologics can be considered for approval.
Biologics' Advanced Efficacy Driving Utilization
For many patients suffering from certain chronic conditions, biologics have provided better long-term outcomes, and they will have a major impact on future disease management. However, research is needed to differentiate the relative economic value of the various biologic agents by therapeutic indication.
The table below identifies six medical conditions—many of which may be more common among older adults—for which biologics have become an increasingly important treatment option. Depending on the condition, they may be prescribed in combination with lifestyle changes (if practical) and/or with non-biologic prescription medicines.
Annual Treatment Costs: Biologics vs. Non-biologic Medicines
Condition
Prevalence
Common Biologics and Annual Treatment Costs
Top Non-biologic Medicines and Annual Treatment Costs
Rheumatoid arthritis—an autoimmune disease that causes inflammation (pain, stiffness, swelling, deformity) in the joints.
2.1 million people in the U.S. The age of onset is typically between 20 and 50 years; can also affect young children and people older than 50; incidence increases with age. Affects two to three times more women than men.
Enbrel®
Remicade®
Rituxan®




$15,000–$22,450
aspirin
ibuprofen
methotrexate
prednisone




$100–$300
Multiple sclerosis—chronic neurological disorder that affects the central nervous system.
300,000 people in the U.S. The age of onset is typically between 20 and 50 years. Affects twice as many women as men.
Humira®
Avonex®
Copaxone®
Rebif®
Betaseron®
Tysabri®

$12,700–$28,400
prednisone
dexamethasone
gabapentin
phenytoin



$200–$1,400
Cancer—a group of diseases characterized by uncontrolled growth and spread of abnormal cells.
About 10.5 million Americans with a history of cancer were alive in January 2003. Nearly 1.5 million new cases are expected to be diagnosed in 2007.
Procrit®
Gleevec®
Sutent®
Herceptin®
Avastin®
Erbitux®
Rituxan®

$5,500– ~$32,500*
cyclophosphamide doxorubicin
methotrexate





$100–$1,600*
Hepatitis C—disease of the liver caused by the hepatitis C virus.
Four million people in the U.S. are affected, making it the most common blood-borne infection in the U.S.
Pegasys®
Peg-Intron®
ribavirin
Rebetron®
Copegus®


$6,400–$15,700






n/a
Osteoporosis—a disease in which bones become fragile and more likely to break.
In the U.S., 10 million people have the disease and an additional 34 million are estimated to have low bone mass, placing them at increased risk. Risk increases with age; from age 75 on, it is as common in men as it is in women.
Forteo®






$6,700
Fosamax®
Actonel®
Boniva®




$750–$1,000
Diabetes—a condition in which the body has trouble breaking down sugars in the blood. If left untreated, it can lead to cardiovascular disease, kidney disease, nerve and blood vessel damage, blindness and death.
In the U.S., 18 million people suffer from type 2 diabetes, which is the most common form of the disease. Among those age 60 years and older, 23% are estimated to have diabetes (this includes both diagnosed and undiagnosed). Among both sexes, about one-third of people with diabetes do not know they have it.
Novolin®
Lantus®
Novolog®
Humalog®





$1,100–$2,000
glimepiride
glipizide
metformin
Avandia®





$190–$1,100
* Cancer treatments are rarely used continuously for 365 days/year; therefore, treatment costs in this category represent one course of treatment. Some patients will need more than one course of treatment.Note: Drug names in lowercase indicate that a generic version is available.Sources: Biologic treatment costs are primarily from: C.D. Douglas et al., "Kaiser Permanente's Evaluation and Management of Biotech Drugs: Assessing, Measuring, And Affecting Use," Health Affairs 25(5) (September/October 2006): 1340-46; Caremark, "2006—Focus on Specialty Pharmacy," 2006; and Express Scripts, "2006 Drug Trend Report," April 2007. Non-biologic treatment costs are based on data from drugstore.com.
Expenditures Rising across Top Biologic Classes
In the language of pharmacy benefit managers (PBMs), biologics fall under the category of "specialty pharmaceuticals." Two of the country's largest PBMs reported that specialty spending increased 16.1 percent (Medco) or 21 percent (Express Scripts) from 2005 to 2006. This is more than double or triple the spending increase percentage on non-specialty drugs.
The chart below shows the proportion of drug therapeutic classes where biologics and other specialty drugs had the most impact as cost drivers in 2006 in terms of total expenditures.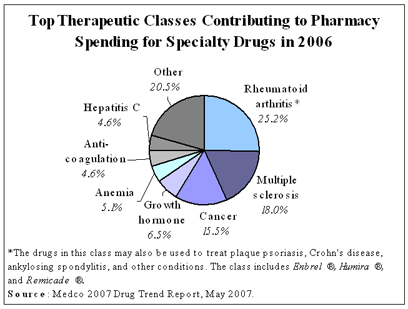 Overall, biologic costs are predicted to reach $99 billion by 2010, when they will account for 26 percent of total drug spending.
Current Policy Debates
For most prescription drugs, loss of patent protection brings opportunities for lower-priced generic competitors. Nationally, more than 55 percent of prescriptions filled in 2006 were for generic medicines. Among biologics, more than half of the top 20 have either gone off patent or will do so by 2012.
Legislation before the current (110th) Congress, H.R. 1038 and S. 623, would create an approval pathway within the FDA for generic biologics. As the FDA deputy commissioner testified in May, "The science is going to continue to evolve, and as Congress contemplates this, they should leave room for the evolving science." The FDA also predicted that "within this decade we will be able to characterize some of the very simple proteins well enough that we will probably be able to decide that they're similar enough to an innovator product."
Some of today's uninsured patients may gain access to biologics through manufacturer-sponsored patient assistance programs for some of the most commonly-prescribed products. However, many patients will face impeded access until generic biologics come to market.
The mainstreaming of biologics in pharmaceutical treatment regimens, despite their very high cost, signals that some prescribers would likely embrace additional clinical options presented by generic biologics—and patients and payers would welcome the economic benefits.
Footnotes
"The Global Biotech Report 2006," Visiongain, Sept. 2006.
IMS Health, Press Release, March 8, 2007.
IMS Health, "Top 10 Therapeutic Classes by U.S. Sales," IMS National Sales Perspectives, March 2007.
J. Woodcock, "Assessing the Impact of a Safe and Equitable Biosimilar Policy in the U.S.," House Committee on Energy and Commerce, Health Subcommittee, Washington, DC, May 2, 2007.
Express Scripts, "Biotech Drug Spending Increases 21 Percent Even as Growth in Rx Expenditure Slows," Press Release, April 25, 2007.
A. Diaz-Borjon, C.M. Weyand, and J.J. Goronzy, "Treatment of Chronic Inflammatory Diseases with Biologic Agents: Opportunities and Risks for the Elderly," Experimental Gerontology 41(12) (Dec. 2006): 1250–55.
S.E. Gabriel, D. Coyle, and L.W. Moreland, "A Clinical and Economic Review of Disease-Modifying Anti-rheumatic Drugs," Pharmacoeconomics 19(7) (2001): 715–28.
Q.V. Doan, C.F. Chiou, and R.W. Dubois, "Review of Eight Pharmacoeconomic Studies of the Value of Biologic DMARDs in the Management of Rheumatoid Arthritis," Journal of Managed Care Pharmacy 12(7) (Sept. 2006): 555–69.
Supra note 5.
Medco, Press Release, May 17, 2007.
E. Ehrlich and E.L. Wright, Biogenerics: What They Are, Why They Are Important, and Their Economic Value to Taxpayers and Consumers, Policy Brief (Washington, DC: Citizens Against Government Waste, May 2, 2007).
J. Woodcock, quoted in "Follow-on Biologics Face Negotiation Slalom After Scaling Mount PDUFA," The Pink Sheet 69(19) (May 7, 2007): 5.
Woodcock, ibid.
Written by N. Lee Rucker, M.S.P.H., Research assistance provided by Leigh Purvis, AARP Public Policy Institute
June 2007
©2007 AARP
All rights are reserved and content may be reproduced, downloaded, disseminated, or transferred, for single use, or by nonprofit organizations for educational purposes, if correct attribution is made to AARP.
Public Policy Institute, AARP, 601 E Street, NW, Washington, DC 20049