Family Caregiver Support Services: Sustaining Unpaid Family and Friends in a Time of Public Fiscal Constraint
Table of Contents:
Introduction
In spite of how busy families are today, the vast majority of adults in the U.S. who receive long-term care at home receive all of their care exclusively from unpaid family and friends.*
Providing this care, however, can exact a high cost. Family members commonly face health risks, financial burdens, emotional strain, mental health problems, workplace issues, retirement insecurity, and lost opportunities.
Research shows that support services to family members reduce the burden, strain, and depression of caregiving responsibilities; allow family caregivers to remain in the workforce; and can even delay institutionalization of a loved one. Keeping family caregivers healthy and able to provide care helps families remain together with their loved ones, thus avoiding more costly nursing homes.
Publicly Funded Caregiver Support
Family Caregiver Support Programs are available in all 50 states and U.S. territories, which receive federal support, approximately $155 million in fiscal year 2005, through the National Family Caregiver Support Program (NFCSP), enacted under the Older Americans Act Amendments of 2000. Program components include:
Information to caregivers about available services;
Assistance to caregivers in gaining access to supportive services;
Individual counseling, organization of support groups, and caregiver training to assist caregivers in making decisions and solving problems relating to their roles;
Respite care to enable caregivers to be temporarily relieved from their caregiving responsibilities; and
Supplemental services, on a limited basis, to complement the care provided by caregivers.
The NFCSP, along with Medicaid Home and Community-Based (HCBS) waivers and state-funded respite care and family caregiver support programs provide the bulk of public financing to support family caregiving. For Medicaid HCBS waiver programs, total national respite expenditures in fiscal year 2002—the most recent year for which these data are available—were about $101 million. Comparable expenditure data on state-funded programs are unavailable. However, states such as California, Florida, New Jersey and Pennsylvania commit significant state general funds to caregiver support services.
Types of Services
When caregivers are asked what they need most, their response is often "a little time to myself," i.e., respite care. Respite care is temporary, short-term help that enables caregivers to take a break. Most (95%) of the public programs across the nation, including Medicaid HCBS waiver programs and family caregiving programs, offer respite to caregivers through in-home providers or through adult day care services, overnight stays in facilities, and/or through weekend options, such as respite "camps" for caregivers. Table 1 illustrates the services commonly offered explicitly to support family caregivers.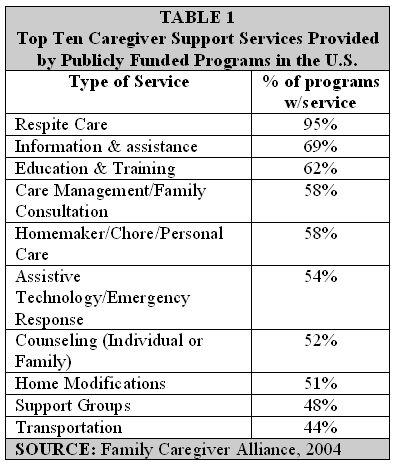 Despite a broad array of available services, local access to program information or services varies considerably. Programs may make services available in one part of the state but not others, or they may use differing eligibility criteria and service limits. Therefore, even within the same state, caregivers may not find the same package of services available and may have difficulty determining where to go for help.
Eligibility
Programs use a range of eligibility criteria. Many programs, particularly Medicaid HCBS waiver programs, focus on care receiver characteristics, such as functional status, age, and financial circumstances.
Age. While eligibility varies by program, many programs require the care receiver to be age 60 or older. Others require that the care recipient be age 18 or older.
Functional Status. Common functional eligibility criteria include nursing home eligibility; limitations in two Activities of Daily Living (ADLs); or a diagnosis of Alzheimer's disease or a related cognitive impairment.
Income. Many publicly funded programs restrict the income eligibility of the care receiver to target those most in need. Although states vary widely, programs with financial requirements typically consider the care recipient's income and/or assets.
Conclusion
As more long-term care is provided at home and in the community rather than through institutions, reliance on family and informal caregivers grows. Given the growing numbers of people with disabilities needing long-term care services, consumer preference to stay at home, and the fiscal constraints in federal and state governments, caregiver programs play an important role in sustaining and strengthening the unpaid, informal care provided by families.
Sources: Feinberg et al. The State of the States in Family Caregiver Support: A 50 State Study, 2004 [Family Caregiver Alliance]; Mittleman et al. Effects of caregiver intervention on negative caregiver appraisals of behavior problems in patients with Alzheimer's disease: Results of a randomized trial. Journal of Gerontology: Psychological Sciences 59B, 2004; Mittleman et al. A family intervention to delay nursing home placement of patients with Alzheimer's disease: A randomized controlled trial. Journal of the American Medical Association 276, 1996; Montgomery et al. The effects of alternative support strategies on family caregiving. The Gerontologist 29, 1989; Ostwald et al. Reducing caregiver burden: A randomized psychoeducational intervention for caregivers of persons with dementia. The Gerontologist 39, 1999; Thompson. Long-term care. Support family caregivers (Issue Brief), March 2004 [Georgetown University, Long-Term Care Financing Project]; Wagner. Enhancing state initiatives for working caregivers (Policy Brief No. 5). 2001 [Family Caregiver Alliance]; Zarit et al. Stress reduction for family caregivers: Effects of adult day care use. Journal of Gerontology: Social Sciences 53B, 1998. Arno et al. The Economic Value of Informal Caregiving, Health Affairs, 18(2), March/April 1999.
*For an overview about caregiving issues, please see PPI fact sheet #111, "Caregiving in the United States."
Written by Lynn Friss Feinberg, Sandra Newman, and Wendy Fox-Grage, AARP Public Policy Institute
April 2005
©2005 AARP
All rights are reserved and content may be reproduced, downloaded, disseminated, or transferred, for single use, or by nonprofit organizations for educational purposes, if correct attribution is made to AARP.
Public Policy Institute, AARP, 601 E Street, NW, Washington, DC 20049