Table of Contents: Introduction | Sources of Retirement Income | Conclusions
Introduction
Women who reach age 65 today are likely to live another 19 years—about 3 years longer than men the same age.1 Unfortunately, this longer life expectancy may describe quantity more than quality. Older women have fewer sources of retirement income and are more likely to be poor than older men.
Discussions of retirement income generally include four components: Social Security, pensions, savings, and earnings from work. From what sources do women receive their retirement income? What portion of women age 65 and older fall below the poverty threshold? This data digest focuses on women age 65 and older, their retirement income sources and their poverty status.2
Income.3 Women's income, in general, is lower than men's; among older individuals, the difference is especially pronounced. The median income for women age 65 and older is only slightly more than one-half that of men in the same age group ($11,816 and $20,400, respectively).4
The Census Bureau's poverty threshold for those over age 65 in 2003 was $8,825. In other words, the median annual income for older women is just about $3,000 above the Census definition of poverty.
Poverty. It is a significant achievement that the poverty rate for those age 65 and older has been cut by more than half over the last 35 years (from 24.6 percent in 1970 to 10.4 percent today).5 However, the picture is less rosy for older women, particularly older women of color, than it is for older men. For all women age 65 and older, the poverty rate is 12.5 percent. For African American and Hispanic women, the poverty rates are almost double that.6 More than one-quarter of African American women over age 65 and just under one-quarter of older Latinas (27.5 percent and 22 percent respectively) fall below the poverty level (see Figure 1).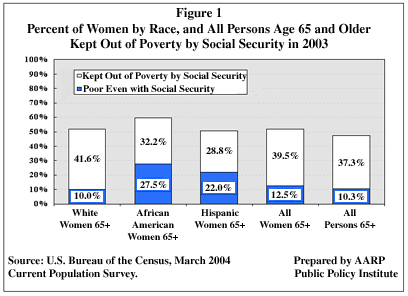 Sources of Retirement Income
Social Security. The dominant and, in many cases, the only source of income for women in their retirement years is Social Security.7 Nine out of 10 older white and African American women (91.5 percent and 89.4 percent, respectively) and 3 out of 4 Hispanic women (76.2 percent) receive Social Security benefits.
While the portion of older women receiving Social Security benefits is notable, the portion that is kept out of poverty by those benefits is truly impressive. Without Social Security, the poverty rate for all groups of older white women would more than double (see Figure 1).8
Pensions.9 Pensions can be a valuable part of retirement income security. They are a part of retirement income for more than 45 percent of the total population age 65 and older. However, fewer women than men receive pensions when they retire. Today, only 28.5 percent of all women age 65 and older receive pension income (see Figure 2).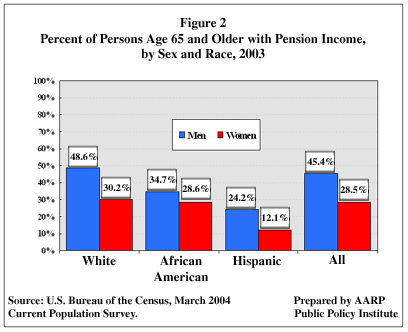 The proportion of older African American women and white women who receive pension income is low (28.6 and 30.2 percent respectively), but not nearly as low as that of older Latinas (12.1 percent).
On average, women earn less than men.10 Additionally, their employment patterns are different from men's. Because of family care-giving obligations, women move in and out of the paid workforce and/or have part-time jobs that are less likely to offer pension coverage.11
Although women comprise over 46 percent of today's labor force, only 53 percent of women employees participate in an employer-sponsored pension plan.12
Interest and Dividends. Interest on investments and/or savings is a source of income for more than half (56.6 percent) of white women older than 64. For women of color, the picture is very different. Just over one-fourth of older African American women (25.2 percent) and slightly more than one-fifth of older Latinas (21 percent) have interest income (see Figure 3).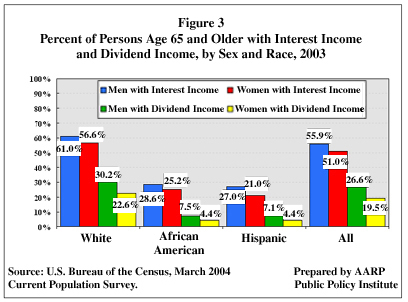 Though few older women overall receive dividends, older women of color are even less likely to have dividend income than older white women. Just over one-fifth (22.6 percent) of older white women receive income from dividends. A significantly lower portion of older African American and Hispanic women receive dividends (4.4 percent each) (see Figure 3).
Earnings from Work. The majority of people age 65 and older are retired from paid work.13 Those who remain in the labor force do so for numerous reasons including: financial need; enjoyment of work; or possibly, a way to stay active. Although the portion of men older than 64 that is receiving earnings from work is low, the portion for women is even lower (21.8 percent and 13.8 percent, respectively). Slightly more white women (14.1 percent) than African American and Hispanic women (13.2 and 11.9 percent, respectively) have earnings (see Figure 4).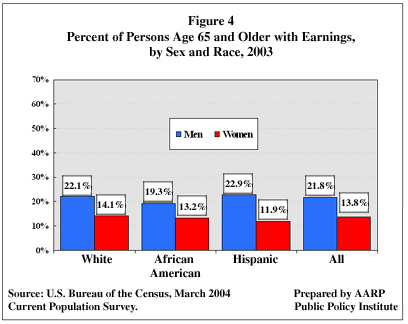 Conclusions
The reduction in the poverty rate for those 65 and older from almost 25 percent to more than 10 percent over the past quarter century is a significant accomplishment. However, a larger number of older women than older men, and a disproportionately larger number of minority older women, remain poor. A consequence of women's diverse work patterns is that older women have fewer retirement income sources and smaller amounts from each source than men in the same age group.
As long as women continue to work part time, move in and out of the paid labor force, and earn less than men, the benefits they do receive will be lower than men's. Social Security, with its progressive, lifelong, cost-of-living-adjusted benefits, remains the source of retirement income on which women rely.
---
Footnotes
1
Data accessed on August 3, 2005 at http://www.cdc.gov/nchs/fastats/lifexpec.htm.
2
Unless otherwise noted, data for this Data Digest are extracted from U.S. Bureau of the Census March 2004, Current Population Survey (machine-readable micro data).
3
Income includes: Social Security; pensions; asset income (such as dividends and rent income); earnings from work, government cash transfers (such as unemployment compensation, worker's compensation, veterans' benefits, SSI , public assistance, and education assistance); and other (such as child support, alimony, and other intra-family financial assistance).
4
Data accessed Aug. 25, 2005 at www.census.gov/prod/2000pubs/cenbr001.pdf.
5
This is due in great part to Social Security's initial benefit formula based on real wage growth and its inflation-adjusted benefits.
6
The terms "Hispanic women" and "Latinas" are used interchangeably in this document.
7
The great majority of all people age 65 and older receive Social Security benefits (88.7 percent of men and 89.4 percent of women).
8
We recognize that, without Social Security, people's behavior would be different and governments would adjust their policies to increase older persons' retirement income.
9
Pensions for the purposes of this data digest include: private company or union, federal government, military, state and local government, and railroad pensions, survivors' and disability benefits (not Social Security), annuities, IRAs, Keoghs, and 401(k)s. These benefits may be the result of either a woman's own time in the labor force or that of a spouse or former spouse.
10
In 1970 women earned 58.7 percent as much as men. In 2003, women earned 75.6 percent as much as men. Data accessed on August 29, 2005 at: www.infoplease.com/ipa/A0882775.html.
11
Shaw, Lois, and Catherine Hill. 2001.
"The Gender Gap in Pension Coverage: Women Working Full Time Are Catching Up, But Part-Time Workers Have Been Left Behind"
. Washington, DC. Institute for Women's Policy Studies (April).
12
Data accessed August 25, 2005 at: http://www.dol.gov/wb/stats/main.htm
13
Rix, Sara. 2005.
"Update on the Older Worker: 2004."
Washington, DC: AARP (April).
---
Written by Laurel Beedon and KeBin Wu, AARP Public Policy Institute
October 2005
©2005 AARP
All rights are reserved and content may be reproduced, downloaded, disseminated, or transferred, for single use, or by nonprofit organizations for educational purposes, if correct attribution is made to AARP.
Public Policy Institute, AARP, 601 E Street, NW, Washington, DC 20049