"It's very exciting to work with young people who are at that age when everything is still a possibility," says Juliette Wiles, 53, a volunteer mentor for teens. She spends several hours each week discussing books with her mentees, critiquing their writing, or offering encouragement as they complete activities designed to get them thinking about what drives them in life and where they want to be in five or 10 years. She helps them define their goals and research college and career options. She does all this through a website called icouldbe.org—while sitting in front of her computer.
"My own children are grown now and I miss that interaction on a daily basis with younger people and their friends. This is a nice way to tap back into that energy," she says. While all of her discussions with mentees take place online, Wiles feels that doesn't make the experiences any less personal. "After I've worked with the teens for a little while," she says, "I get the same sense of their personalities as I would if I were sitting right across from them."
Did you know you can…
• raise puppies that will be trained to be guide dogs for the blind
• help improve the lives of visually impaired and hearing-impaired children in developing countries
• count birds at your backyard feeder for a scientific census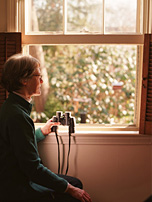 Photo by Nicole Wolf
Go to our online resource guide for details on these and many more virtual volunteering opportunities.
Wiles is one of thousands of "virtual volunteers" who are helping nonprofits in their communities and around the world right from their home or office. They work on their own schedule, at any time of day or night that is convenient for them, editing or translating documents, writing newsletters, designing graphics, doing research, building websites, creating databases, or offering advice and support. Although much of this work is computer-related and requires Web and email access, the less technologically inclined can also find rewarding "offline" at-home volunteer opportunities, like knitting blankets for people in need or counting birds at your backyard feeder for a scientific census. The term "virtual volunteering" refers not just to computer-based tasks, but to all kinds of remote volunteering.
Jason Willett, the director of communications for VolunteerMatch, an online database of volunteer jobs, says the number of virtual assignments is increasing dramatically. In 2005 volunteers matched themselves to nearly 40,000 remote opportunities on Volunteermatch.org, compared with 3,000 in 1998, the year the site debuted. "Organizations are realizing they can move opportunities into the virtual realm—such as mentoring or fundraising—and get more people volunteering regardless of location," he says. "They can save space in-house, which may make room for an additional staff person or volunteer, and they can take advantage of skills and resources that may not be available in their own community."
Wiles had volunteered in the past in a face-to-face mentoring program, but she says she loves online mentoring because she doesn't need to spend time traveling back and forth to a school so "every second I spend directly benefits the kids. It makes the experience richer, because you have the time to bring up a new topic and get into a greater level of detail."
She works in Menlo Park, California, as a senior editor for E*TRADE FINANCIAL. Her employer has partnered with icouldbe.org and encourages her to spend some of her workweek doing online mentoring activities (although she also participates from home). icouldbe.org recruits teens through schools, after-school programs, and through cooperation with MTV. Volunteer mentors fill out an application, which takes about an hour, and icouldbe.org does background checks on them to ensure the mentees' safety.
High school students can see Wiles's bio on the site and send her a message if they are considering a career in writing or communications. "One of my mentees is interested in stage design and drama but he had never considered the idea that there were colleges where you could study stage design," she says. "So I researched schools and sent him some resources, which was fun because I'm very interested in theater myself." Wiles also worked on finding scholarships for another student to attend a summer camp for computer game design.
"As a mentor, you really grow to feel affection for the kids you work with—their view on the world is so fresh and optimistic even under some of the most trying of circumstances," she says. "Many of these kids don't have the resources to do these things on their own or they don't have the support at home. But you can feel it when a light bulb goes on and that's rewarding."
---
The following four virtual volunteers have also found creative ways to share their skills and get involved with causes that really matter to them. And they're able to donate more time and energy because they can do just about all of their volunteer work from their home or workplace.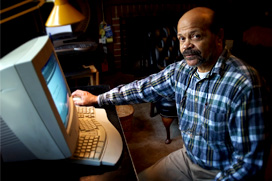 Photo by Nicole Wolf
A Global Neighbor
Oscar H. Blayton, Attorney, 60, Williamsburg, Virginia
Oscar Blayton is a lawyer who has both worked and volunteered for 30 years for nonprofit organizations, but he says he has never before seen a group that accomplishes its mission as efficiently as Nabuur.com. On the site, Blayton and more than 2,800 other volunteers from around the world—called "neighbours"—register and join in online discussions with people from communities—called "villages"—in developing countries. Each community appoints a representative who speaks on its behalf and posts weekly updates on what's going on in the town. A trained volunteer facilitator coordinates the efforts of the neighbours and ensures that online discussions are productive, while the neighbours help solve the problems of the villages and direct them towards useful resources.
Blayton says that Nabuur.com gives people who might not be able to volunteer on-site in places like South America (because of financial, time, or health constraints) a way to contribute. He spends about an hour each day either posting messages on the website or executing tasks such as writing to friends at embassies in Washington, D.C., to ask them to assist with Nabuur projects. Recently, he started working with a group in the Moroccan village of Imhilen. "They want to get a children's library started with literature about their culture, so we got books contributed by contacting Amazigh organizations around the world," Blayton says.
He has also helped work out the tax implications of a donation to ship computers to the village of Oyoko in Ghana. "This site brings people together from great distances. A neighbour in the Czech Republic found those computers for Oyoko and someone in the U.S. offered to help pay to ship them," he says. "The greatest inspiration is seeing what people can do when they combine to get something done."
---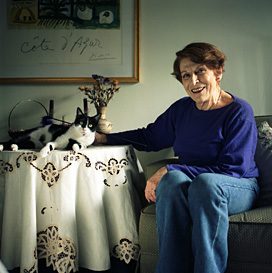 Photo By Carl Posey
A Friend to Animals
Effie French, Retired Educational Psychologist, 70, New York City
Effie French fell in love with kittens and cats when she was growing up in Greece. She lives in New York City now, and she can't keep a pet because she spends three and a half months each year in Europe. Instead, she fosters cats for the American Society for the Prevention of Cruelty to Animals. "It's a great solution for me to be able to help and also have a pet in the house—it's a temporary member of your family," she says.
For periods ranging from one to eight months, French takes home cats from the ASPCA's shelter who are sick, pregnant, or have behavioral problems. "They heal faster and they become delightful, outgoing pets. It gives them a chance to be adopted into permanent homes," she explains. The ASPCA provides food, cat litter, medicine, and other supplies, as well as veterinary care at their clinic. French has cared for cats with broken legs, cataracts, and one that gave birth to five kittens in her apartment.
When she returns them to the ASPCA, she writes a resume for each cat that is given to the people that are interested in adopting it. "The separation is painful, but it eases your pain to know how much pleasure the cat will give to the family that adopts it, and that the cat is saved."
---
A Phone Call Away
Bill (last name withheld by request), Retired Nurse, 67, West Trenton, New Jersey
Every day of the year, Bill, a volunteer with the Reassurance program of the organization Contact of Mercer County (New Jersey), calls several elderly, homebound people in his town who live alone. He checks in on them to make sure they are safe. "As long as they answer the phone and are okay, I'm happy," he says. "And if they want to chat, I can chat with them." If they don't respond (and the organization hasn't been notified that they are away), Bill calls their family members, friends, the security office at their apartment building, or—if necessary—the police, to stop by and see if they are in trouble.
Bill maintains that the program not only makes people feel less vulnerable but also helps with their loneliness. "These folks are very responsive and friendly, and I believe that they appreciate the calls," he says.
---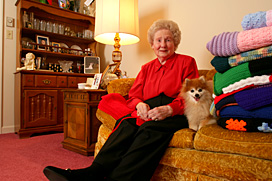 Photo By Jon Silla
A Provider of Warmth
Evelyn Carson, Retired Supervisor for BellSouth, 82, Gastonia, North Carolina
Ever since Evelyn Carson started crocheting baby blankets for her first child 50 years ago, she's been creating colorful handmade afghans and quilts for friends and family members. But that's not all. Ten years ago, she saw a notice in her local newspaper about Warm Up America!, an organization that collects afghans and donates them to charitable agencies that serve the homeless, battered women, victims of disasters, and other people in need. Now Carson spends at least 1,500 hours a year crocheting blankets for the group.
Much of her work involves connecting the squares that other volunteers have sent in and joining those sections into finished afghans. She works at home in her den, then delivers the completed blankets to the local office of the Craft Yarn Council of America, a key partner of Warm Up America! that provides shipping and other support. The blankets are sent to Red Cross chapters all over the United States and to other organizations.
Carson says that a lot of blankets are needed in the colder northern states, where they are given to the homeless or to people when their house burns down. "I think of the people that lose everything and they have to run out in their pajamas on a cold night and the Red Cross comes and gives them a blanket," she says. Evelyn continues to work tirelessly, since she knows more afghans are needed this year.
"I honestly believe that I saw one of my blankets on the news when Clinton and Bush were in New Orleans after the hurricane—I saw it in the big auditorium on one of the beds!" she says.
Jennifer Uscher is a freelance writer based in New York City.
Inspired? Research thousands of virtual volunteering opportunities using our online resource guide.